Par4 Villa 13
Par4 Villa 13
Holiday home
1-6
2
1
90m2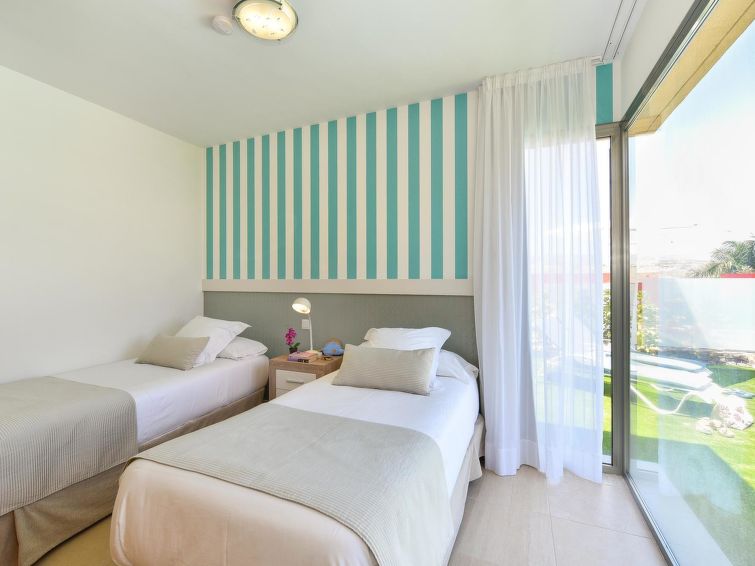 Description holiday home
Modern villa "Par4 Villa 13", surrounded by fields.
House Equipment: air conditioning, washing machine (private use).
Access & Parking: parking by the house, private parking on the road. All-season motor access to the house. Situation: on the outskirts of Salobre, in the district of Maspalomas, quiet, sunny position. View from the apartment of the mountains, the garden and the forest.
Surroundings of the house: grounds (shared use), garden (private use, 210 m2), swimming pool (private use, length 8 m x width 4 m), barbecue (private use).
Facilities and distances: supermarket 1 km, restaurant 400 m, sandy beach 11 km, golf course 100 m. Please note, nearby is a motorway in 1.6 km. Swimming pool heating: extra (40€/night, to be requested in the booking and to be paid on spot).
Layout holiday home
3-room "Villa", house for 6 people, 90 m2, modern and luxurious furnishings.
Living/dining room with local TV, satellite TV, cable TV and CD player. Smoking not allowed. Internet (Wireless LAN [WLAN]). 1 double sofa bed.
Sleeping room with 1 double bed. Sleeping room with 2 single beds.
Open kitchen with 4 hot plates, micro wave, oven, dining table, dishwasher, fridge and deep freezer. Food service: bread roll service (included).
Bath/shower/WC.
Patio 210 m2, terrace furniture, 4 deck chairs.
Other equipment: safe, children's high chair, hair dryer, iron, washing machine. Wifi (extra: 6 euros/day). 2016/4696
Rental periods and prices
| Period | Price per week | Price per night |
| --- | --- | --- |
| 19-10-2020 - 26-10-2020 | € 1888 | |
| 20-10-2020 - 27-10-2020 | € 1987 | |
| 21-10-2020 - 28-10-2020 | € 2086 | |
| 22-10-2020 - 29-10-2020 | € 2185 | |
| 23-10-2020 - 30-10-2020 | € 2284 | |
| 24-10-2020 - 31-10-2020 | € 2383 | |
| 25-10-2020 - 04-11-2020 | € 2482 | |
| 05-11-2020 - 12-11-2020 | € 2383 | |
| 06-11-2020 - 13-11-2020 | € 2284 | |
| 07-11-2020 - 14-11-2020 | € 2185 | |
| 08-11-2020 - 15-11-2020 | € 2086 | |
| 09-11-2020 - 16-11-2020 | € 1987 | |
| 10-11-2020 - 17-11-2020 | € 1888 | |
| 11-11-2020 - 27-11-2020 | € 1789 | |
| 28-11-2020 - 12-12-2020 | € 1775 | |
| 13-12-2020 - 20-12-2020 | € 1935 | |
| 14-12-2020 - 21-12-2020 | € 2096 | |
| 15-12-2020 - 22-12-2020 | € 2256 | |
| 16-12-2020 - 23-12-2020 | € 2417 | |
| 17-12-2020 - 24-12-2020 | € 2577 | |
| 18-12-2020 - 25-12-2020 | € 2738 | |
| 19-12-2020 - 31-12-2020 | € 2898 | |
| 01-01-2021 - 08-01-2021 | € 2738 | |
| 02-01-2021 - 09-01-2021 | € 2577 | |
| 03-01-2021 - 10-01-2021 | € 2417 | |
| 04-01-2021 - 11-01-2021 | € 2256 | |
| 05-01-2021 - 12-01-2021 | € 2096 | |
| 06-01-2021 - 13-01-2021 | € 1935 | |
| 07-01-2021 - 05-02-2021 | € 1775 | |
| 06-02-2021 - 13-02-2021 | € 1873 | |
| 07-02-2021 - 14-02-2021 | € 1972 | |
| 08-02-2021 - 15-02-2021 | € 2070 | |
| 09-02-2021 - 16-02-2021 | € 2168 | |
| 10-02-2021 - 17-02-2021 | € 2267 | |
| 11-02-2021 - 18-02-2021 | € 2365 | |
| 12-02-2021 - 21-02-2021 | € 2463 | |
| 22-02-2021 - 01-03-2021 | € 2365 | |
| 23-02-2021 - 02-03-2021 | € 2267 | |
| 24-02-2021 - 03-03-2021 | € 2168 | |
| 25-02-2021 - 04-03-2021 | € 2070 | |
| 26-02-2021 - 05-03-2021 | € 1972 | |
| 27-02-2021 - 06-03-2021 | € 1873 | |
| 28-02-2021 - 19-03-2021 | € 1775 | |
| 20-03-2021 - 27-03-2021 | € 1873 | |
| 21-03-2021 - 28-03-2021 | € 1972 | |
| 22-03-2021 - 29-03-2021 | € 2070 | |
| 23-03-2021 - 30-03-2021 | € 2168 | |
| 24-03-2021 - 31-03-2021 | € 2267 | |
| 25-03-2021 - 01-04-2021 | € 2365 | |
| 26-03-2021 - 31-03-2021 | € 2463 | |
| 01-04-2021 - 08-04-2021 | € 2365 | |
| 02-04-2021 - 09-04-2021 | € 2267 | |
| 03-04-2021 - 10-04-2021 | € 2168 | |
| 04-04-2021 - 11-04-2021 | € 2070 | |
| 05-04-2021 - 12-04-2021 | € 1972 | |
| 06-04-2021 - 13-04-2021 | € 1873 | |
| 07-04-2021 - 09-07-2021 | € 1775 | |
| 10-07-2021 - 17-07-2021 | € 1853 | |
| 11-07-2021 - 18-07-2021 | € 1930 | |
| 12-07-2021 - 19-07-2021 | € 2008 | |
| 13-07-2021 - 20-07-2021 | € 2086 | |
| 14-07-2021 - 21-07-2021 | € 2163 | |
| 15-07-2021 - 22-07-2021 | € 2241 | |
| 16-07-2021 - 06-09-2021 | € 2318 | |
| 07-09-2021 - 14-09-2021 | € 2241 | |
| 08-09-2021 - 15-09-2021 | € 2163 | |
| 09-09-2021 - 16-09-2021 | € 2086 | |
| 10-09-2021 - 17-09-2021 | € 2008 | |
| 11-09-2021 - 18-09-2021 | € 1930 | |
| 12-09-2021 - 19-09-2021 | € 1853 | |
| 13-09-2021 - 15-10-2021 | € 1775 | |
| 16-10-2021 - 23-10-2021 | € 1873 | |
| 17-10-2021 - 24-10-2021 | € 1972 | |
| 18-10-2021 - 25-10-2021 | € 2070 | |
| 19-10-2021 - 26-10-2021 | € 2168 | |
| 20-10-2021 - 27-10-2021 | € 2267 | |
| 21-10-2021 - 28-10-2021 | € 2365 | |
| 22-10-2021 - 30-10-2021 | € 2463 | |
| 31-10-2021 - 07-11-2021 | € 2365 | |
| 01-11-2021 - 08-11-2021 | € 2267 | |
| 02-11-2021 - 09-11-2021 | € 2168 | |
| 03-11-2021 - 10-11-2021 | € 2070 | |
| 04-11-2021 - 11-11-2021 | € 1972 | |
| 05-11-2021 - 12-11-2021 | € 1873 | |
| 06-11-2021 - 11-12-2021 | € 1775 | |
| 12-12-2021 - 19-12-2021 | € 1935 | |
| 13-12-2021 - 20-12-2021 | € 2096 | |
| 14-12-2021 - 21-12-2021 | € 2256 | |
| 15-12-2021 - 22-12-2021 | € 2417 | |
| 16-12-2021 - 23-12-2021 | € 2577 | |
| 17-12-2021 - 24-12-2021 | € 2738 | |
| 18-12-2021 - 31-12-2021 | € 2898 | |
From € 1775 per week
Host
Interhome
Host since 20-02-2020
| | |
| --- | --- |
| Reference number: | 5609 |
| Location: | Maspalomas, Gran Canaria, Spain |
| Website: | Par4 Villa 13 |
| Number of persons: | 1-6 |
| Airconditioning: | |
| Swimmingpool: | |
| Wifi: | |
| (Private) parking: | |
| | |
| --- | --- |
| Surface holiday home: | 90 m2 |
| Number of toilets: | 1 |
| Number of bedrooms: | 2 |
| Number of bathrooms: | 1 |
| Dish washer: | |
| Washing machine: | |
| Satellite television: | |
Rent a car - Gran Canaria
Availability
Location
More holiday homes nearby